Summer Science Internship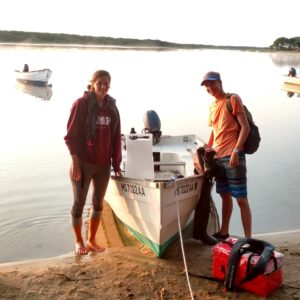 Each year the Great Pond Foundation engages the services of high school and college interns to assist with the summer field program. In 2017 the Foundation continued its water sampling at 10 stations around Edgartown Great Pond. It is our goal not only to track the changes in water quality throughout the season, but also to compare them to benchmarks of Pond health established by the Massachusetts Estuaries Project. In addition to water sampling, we had the opportunity to get into the water and snorkel through eelgrass (Zostera marina) beds for transect surveys and tunicate collection. We also spent our time partnering with BiodiversityWorks to monitor and protect the beach nesting birds on the barrier beach and with the Martha's Vineyard Shellfish Group to restore the oyster population in the Pond.  Here are some highlights of our 2017 season.
For the second year in a row GPF hosted as STEM camp for Island youth.  In 2017 students built an ROV (Remotely Operated Vehicle) with Woods Hole Oceanographic Institution engineer, Megan Carroll.  GPF Summer Science Interns were the teaching assistants for this week long class.  After the class a couple of the STEM Camp students joined us for a launch of their ROV in Edgartown Great Pond.  Here is a video the field launch:
We are hiring for 2018!
Please submit your applications by March 1st.
Internship Job Description
by Natalie Scanlan & Sam Hartman
Since 1998, the Great Pond Foundation has focused on enhancing the health of the Edgartown Great Pond through science, research, and education – in partnership with the town of Edgartown and other concerned organizations. Our goals are to educate the public to the pond's value and condition, and support the town of Edgartown in enhancing its recreational and ecological features.
We are looking for one High School and one College student for a Summer Science Internship. Candidates should have a passion for the environment and thirst for learning. Position entails collecting and testing water samples, helping with oyster restoration efforts, and monitoring beach nesting birds at Edgartown Great Pond.
To apply, please send a cover letter, resume, and the names and contact information of three references to Emily.
Meet the 2016 Interns
This year we are especially lucky in that we have two exceptional individuals who not only care about Edgartown Great Pond's health, but who are also motivated enough to help us develop and implement our newly expanded field program.
Sam Hartman is an 11th grader currently attending the Newman School in the Back Bay. His interests are Marine Biology, hiking, and sports. Sam and his family have been summer residents of the Vineyard for most of his life. As an intern for the Edgartown Great Pond Foundation, Sam brings his positive attitude, boating experience, and love of Island waters to our team. Sam plans to become a middle school Biology teacher in the future and hopes that the internship will help him achieve this goal. Learn more about Sam's internship experience…
Natalie Scanlan is a recent graduate from Ramapo College of New Jersey. She graduated with a Bachelor's degree in Environ- mental Science. Interested in Conservation and Marine Biology, Natalie hopes to learn more about conservation management and restoration projects during her time here with the Great Pond Foundation. Natalie brings a strong work ethic, insightful project planning, and love of learning to our team. In the future, Natalie would like to focus her studies on the field of shark conservation. Learn more about Natalie's internship experience…