Clinging Jellyfish Sightings in EGP:
Over the course of the last week there have been several sightings of jellyfish in Edgartown Great Pond that appear to be Gonionemus vertens, or the Clinging Jellyfish.  So far we know of 2 individuals spotted off of the Town Landing and ~10 individuals seen west of Kanomika Point. These Clinging Jellyfish tend to spend their time attached to eelgrass or other aquatic plants and pack a powerful sting.  Clinging Jellyfish have been previously observed on the Vineyard in Sengekontacket Pond, Farm Pond, Lake Tashmoo, Stonewall Pond, and Squibnocket Pond.
Mary Carman confirmed the identity of the jellyfish as Gonionemus vertens, when she visited Edgartown Great Pond on July 3rd, 2018.  During a several hour survey we collected 3 individuals. They are now preserved at WHOI for future study.  Learn more about Gonionemus research in Mary Carman, Annette Govindarajan, and David Grunden's 2017 paper.
It has been thought that Gonionemus has a limited tolerance for brackish water and can only be found in embayments with near-ocean salinity.  When the jellyfish was observed in Mashacket Cove, the salinity ranged from about 19.97 – 20.11 ppt (parts per thousand).  Current ocean salinity according to the Martha's Vineyard Coastal Observatory is 31.5 ppt.  There is hope that as the Pond water rises and salinity decreases, the jellies might die.
Please let us know if you see any of these jellies. For now, please avoid wading through areas of the Pond that have aquatic plants.  As we learn more, we will pass it along.  Learn more from the Vineyard Gazette and MVTimes articles.  Please read the FAQs document below for more information.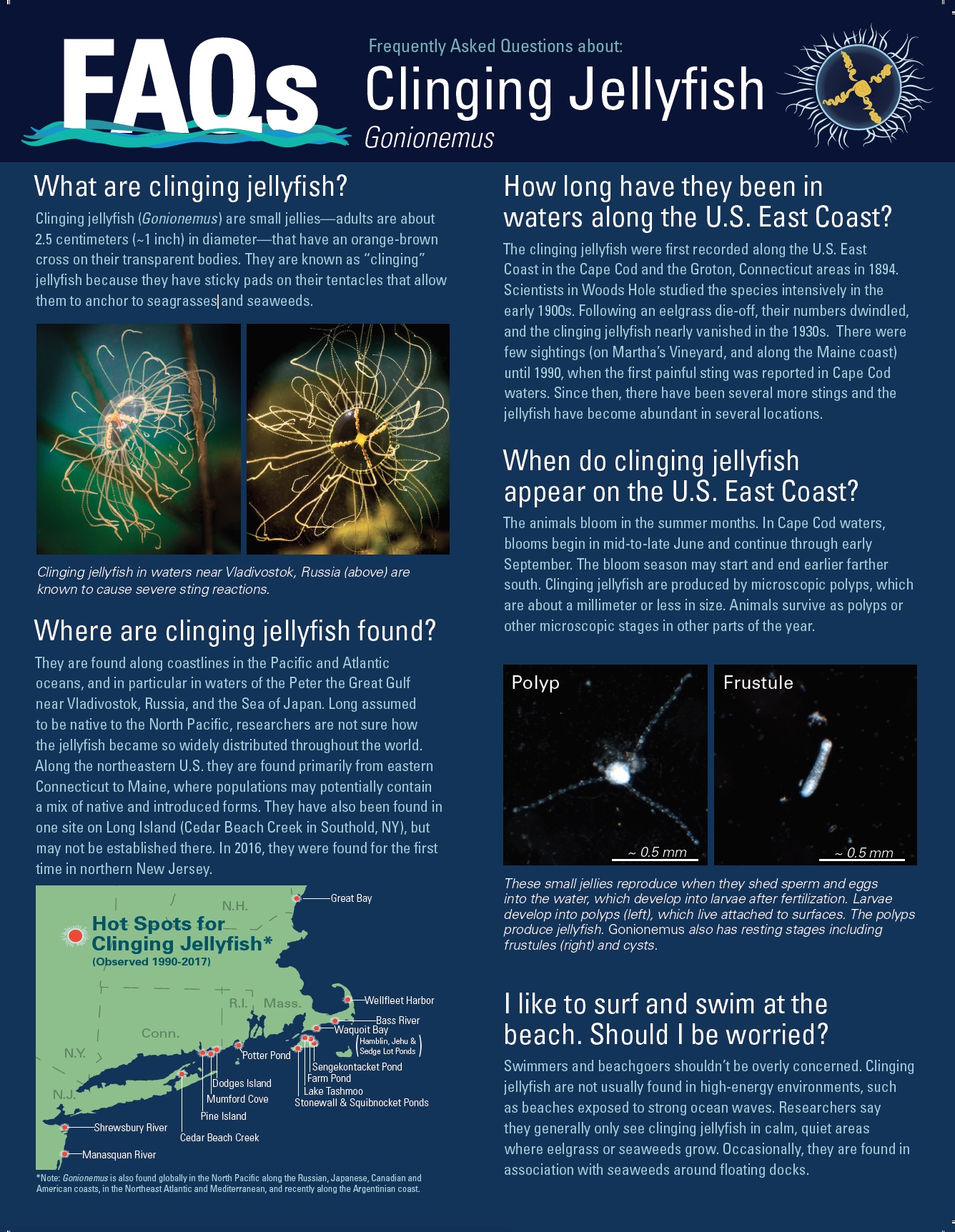 Here is a look back at some Clinging Jellyfish collected last summer from Farm Pond in Oak Bluffs: